18/05/2023
Anand Kumar Mishra
7 Mins to Read
Table of content
On-Demand Car Wash Mobile App Development 2023
Smartphones have made life easier and more convenient than ever before. Having everything digitized has made the technology even more advanced. Today, people can easily access various services with a single tap, including a car wash.
Did you know the US car wash industry earned a revenue of 14.7 billion in 2022?
On-Demand Car wash app development can be a profitable business model, enabling users to conveniently wash their vehicles without visiting a physical facility. It can all be done with just a few taps on a smartphone's screen. 
Here is everything you need to know about car wash app development:
Essential Features of a Car Wash App
Every car washing app has three components, the customer's panel, the car washer's panel, and the admin panel.
Customer Panel
Custom pricing for services:

Provide a cart feature to your customers so they can easily add services to their cart and get customized pricing.
Services package to loyal customers:

Every business has loyal customers who deserve a special service package. For instance, if you have a customer who uses your car washing service a lot, you can provide them with a monthly or annual package that lets them pay for the next service they use.
Finding service providers:

One of the most important factors in finding nearby car washing services is to connect with nearby service providers so that they can provide the quickest On-demand Car Washing service to your customers.
Real-Time Tracking:

Real-time tracking is one of the most essential features for users due to the need to monitor the status of their service.
Chat & calling:

Using live app chat or calling your car washing service provider to chat with customers is a great way to improve customer service.
Payment convenience:

Since different people use different payment methods, give your customers the option to pay differently.
Ratings and reviews:

Allow customers to leave a rating or review of the service they received.
Car Washer Business Panel
Service Location:

Allow car washers to specify their point of service. Generally, the location in which they wish to provide service.
Accepting/Rejecting requests:

On-demand car wash apps require a flawless and seamless process to receive or reject the customer's request.
Service status:

Car washing isn't a one-step process. It's a multi-step process. Showing your service status in an easy-to-understand way will help you build trust with your app and washing company.
Push Notifications:

Push notifications are the backbone of all important service updates, reminders, promotions, and discounts.
Admin Panel Features
Service time zone:

Admins monitor and manage how users interact with car agencies across different time zones. The service time zone functionality must allow users to connect with nearby car washing companies within reach.
Registration management:

An admin support team guides users and responds to their inquiries. Therefore, it is essential to have a register management system in place to identify users' problems.
Payment management:

It's up to the managers to ensure everything runs smoothly and there aren't any errors in the process.
Review management:

Admins need to create a category in reviews.
Monetization Model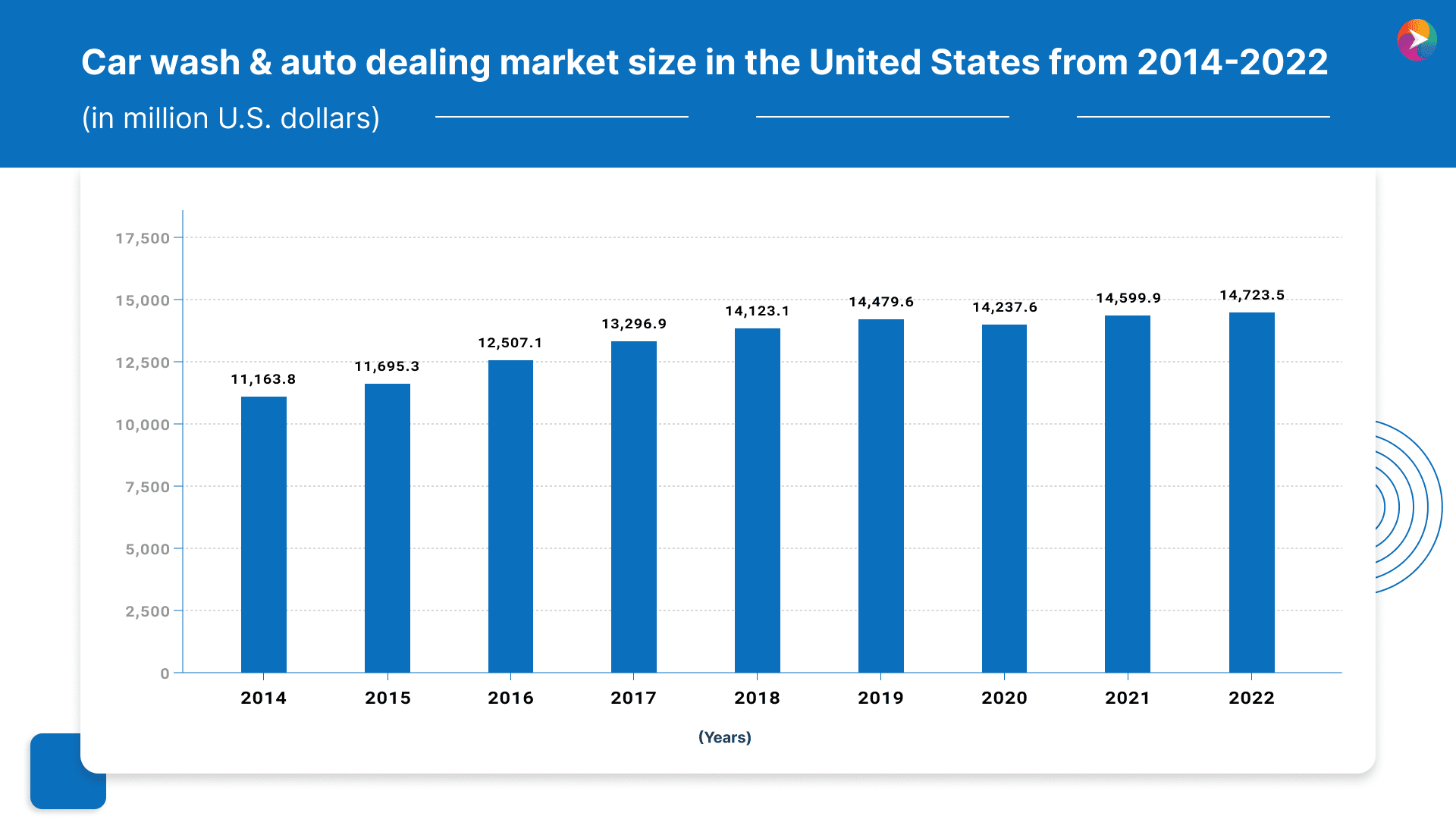 Your on-demand car wash application can be monetized in a variety of ways. Here are some of the most popular ways to monetize your car wash software:
Sponsorship
If you want to make extra cash, sponsoring your car wash service and making money from your app could be the way to go.
Advertisements
If you own a car washing app, you can add third-party ads to your app to make more money.
Product Marketing
Car wash product merchandising is one of the most effective ways to promote your brand and generate revenue. You can add a purchase option to your product or make money online.
Top Car Wash Mobile Apps Across the World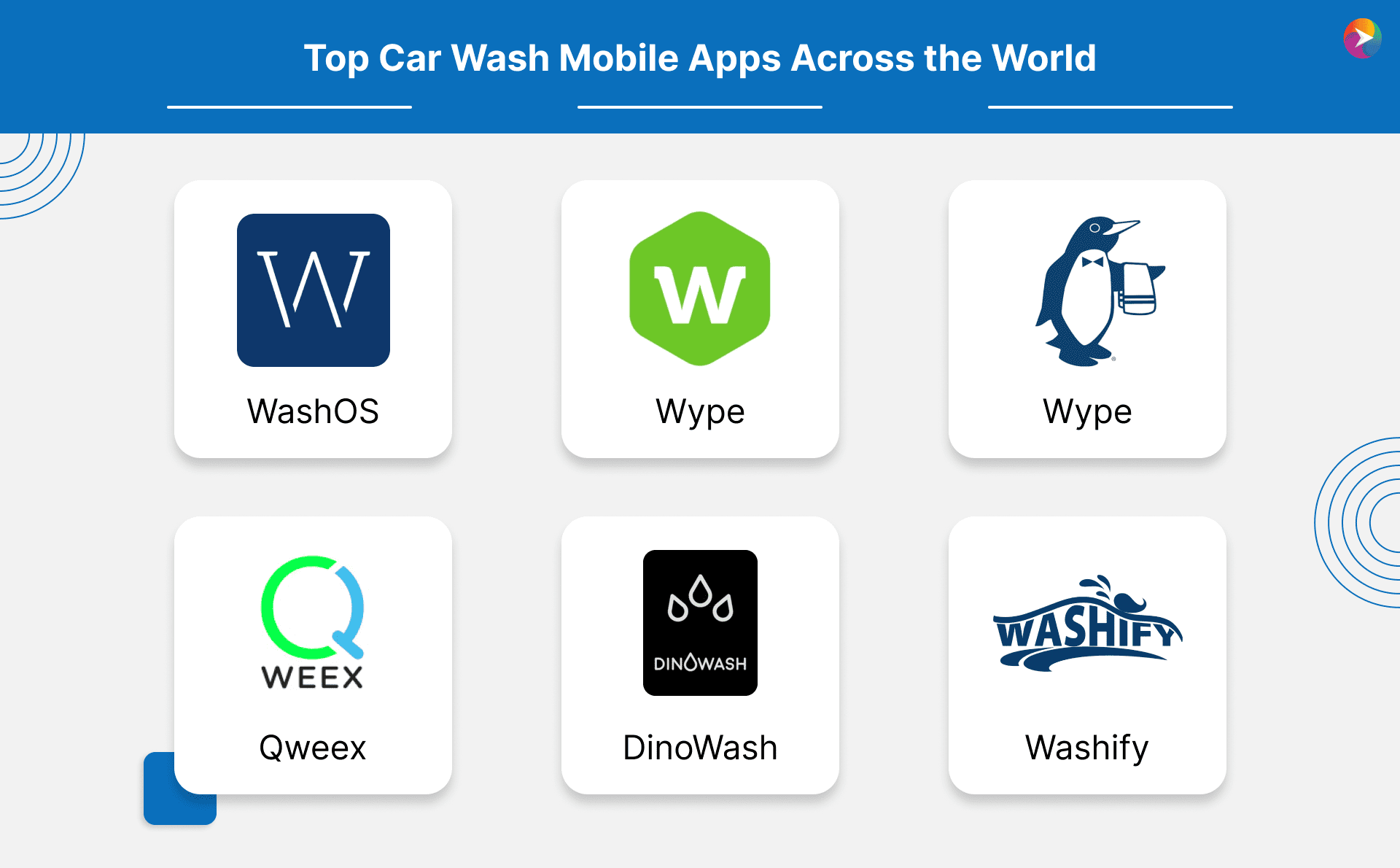 Team Required for Developing a Successful Car Wash App
If you want to keep up with the competition and keep things running smoothly in the company, you need to hire the right people to work on the app. You need a team consisting of the following people:
The Project Manager

Android App Developers

iOS Mobile App Developer

Front-end developers

Back end developers

Quality analysis professionals
How much does it cost to develop an app?
It is very difficult to estimate the cost accurately. However, the cost of the Car wash mobile app cost depends on four factors:
Complexity and size

Number of platforms

Third-party integrations

Location of mobile app development partner.
Conclusion
On-demand service apps have come into the limelight with the help of modern technology. The on-demand app economy is on the rise, and people are gradually using these apps to avail services such as car wash and detailing. 
With the booming automotive software industry, there is a good chance that these apps will also do well in the future. Whether you are a start-up or a big company, the best thing you can do is hire a mobile app development company like Appoward that is well-versed in this field. On-demand service apps are a comprehensive solution for people who want to avail services from the convenience of their homes.