12/05/2023
Mr. Mrityunjay Ojha
7 Mins to Read
Table of content
8 App Store Optimization (ASO) Strategies 2023
Mobile applications have become integral to our lives in today's digital age. With millions of apps available in various app stores, app developers must ensure the apps they make stand out. This is where 8 App Store Optimization (ASO) Strategies come into play. ASO is the process of optimizing mobile apps to increase their visibility, improve rankings, and drive more downloads. 
Not only does App Store Optimization (ASO) rank you high in App Store search results, but it also focuses on App Store click-through rates (CTRs). 
In this blog post, we will explore some effective ASO strategies that can help you maximize your app's success in 2023.
The Importance of ASO
App store optimization is a must-have for any mobile marketing strategy. It helps you determine your potential customers and makes your app more visible on popular app markets like Apple's App Store and Google Play. It's a great way for app developers to reach their target audience by boosting their app's ranking and running updates. 
Plus, it's super cost-effective, so it's a popular choice for mobile marketers. So why is app store optimization so important for developers and business owners? Because it has a direct impact on your app's success, especially in today's competitive mobile marketing market.
SEO vs ASO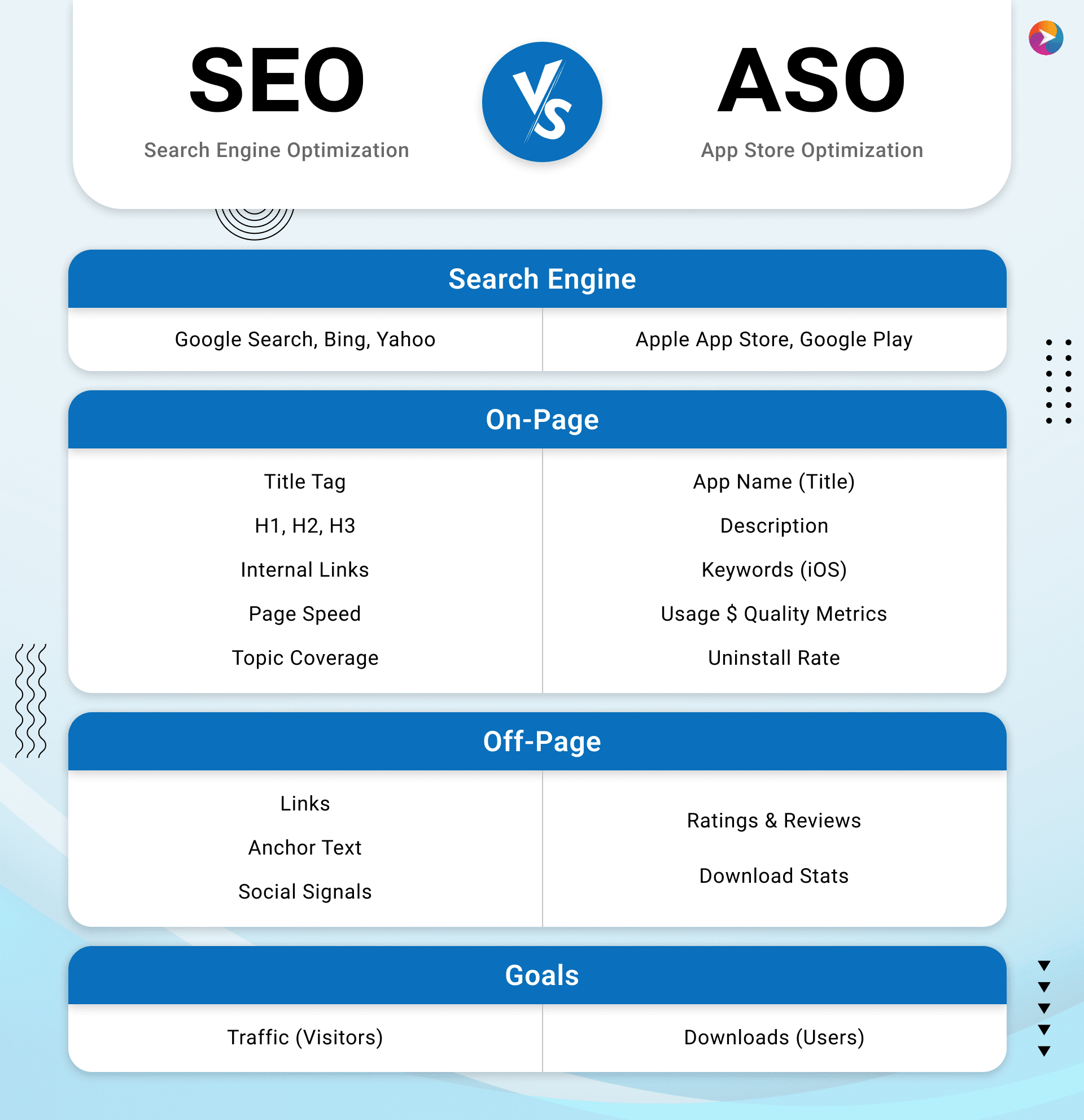 ASO Best Practices 
App Store Optimization (ASO) is integral to your mobile marketing plan. It involves analyzing competitor metrics, utilizing the correct keyword research tools to optimize your campaigns, and optimizing all page elements for conversion.
Following these best 8 practices for app store optimization in 2023 will help your app stand out and get more installs.
Conduct Thorough Keyword Research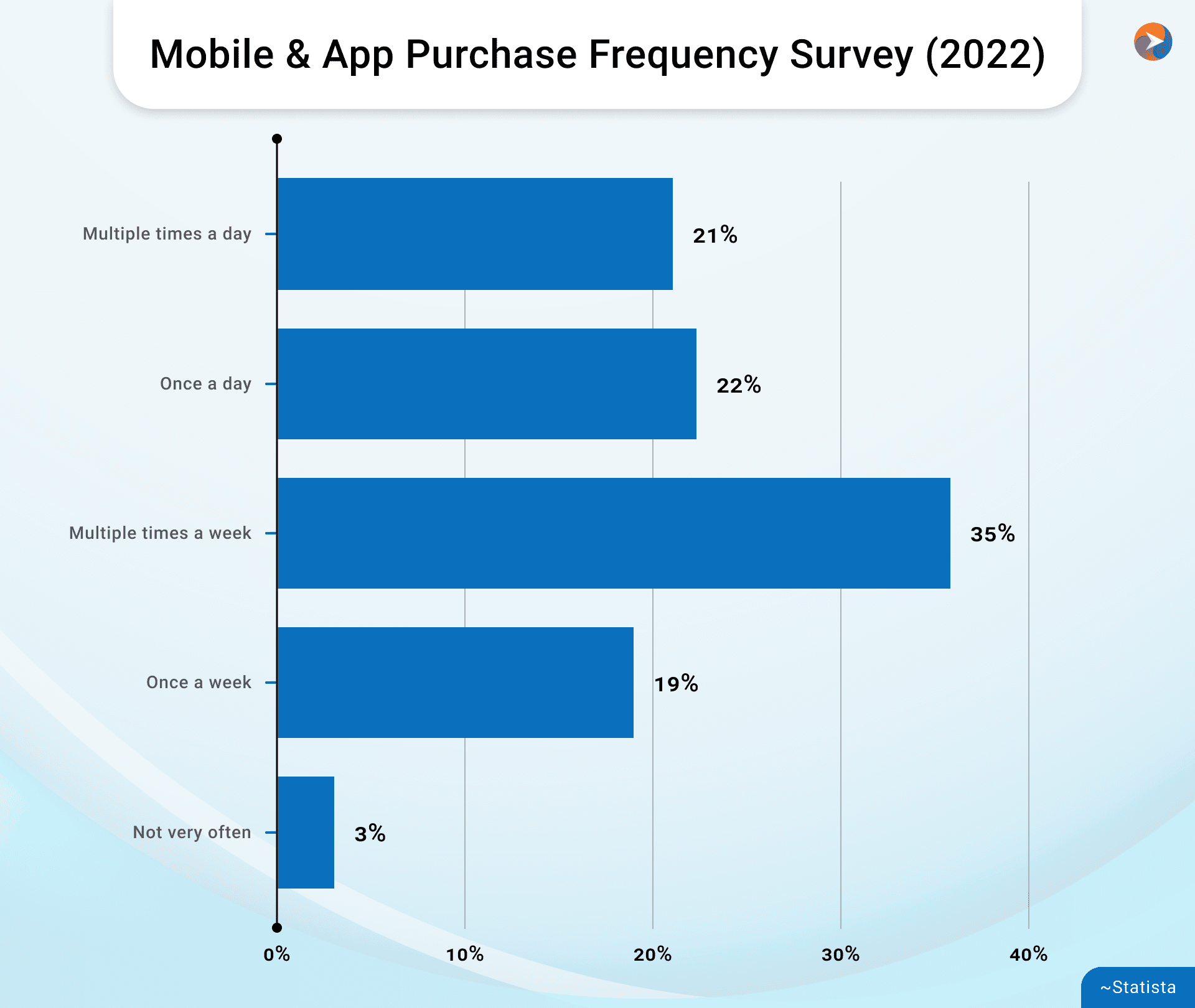 Keywords, such as Search Engine Optimization (SEO), are essential to marketing. They are used to discover apps in app markets. To determine if an app is currently popular in terms of keywords or keyword phrases, it is recommended to use the search engine's first results pages (SERPs).
The goal is to provide a comprehensive list of keywords that can be used to improve the listing of an app store. All app listing components in the app store have an impact on ASO. Fiksu's research suggests that inserting specific keywords into an app's title and description can increase up to 80-100 spots or 10-20 positions.
Use relevant app titles and descriptions
When creating an app title, consider the keywords most relevant to the product or service you're selling. Find out what terms people are searching for in app stores and use them in your title.
Don't forget to include key phrases that are relevant to your app in the description. It's important to keep the description accurate and concise and avoid keyword stuffing, as this can negatively impact your rankings. Include relevant keywords to enhance its visibility and appeal to potential users. 
Similarly, leverage the app subtitle field to provide additional context and highlight unique selling points. A compelling title and subtitle combination can significantly impact your app's click-through rate (CTR) and conversion rate.
Create an Engaging App Description
Your app's description serves as a marketing pitch to potential users. Craft a compelling and concise description that conveys the app's features, benefits, and value proposition. Highlight unique features, testimonials, awards, or any relevant achievements. Break the description into small, scannable paragraphs and use bullet points to make it easy to read. Remember to include relevant keywords naturally throughout the description to improve its visibility in app store searches.
Product Page Optimization
Custom Product Pages are a great way for app marketers to show off different aspects of their mobile app. You can use this tool to show off specific features of your app within the App Store product page version. The advantages of using these pages are obvious, but app marketers should not overlook them. People who use mobile apps aren't all the same. They're a mix of different interests. App marketers need to be able to reach out to these people, speak their language, and connect with them effectively. A Custom Product Page is a great way to do this.
Eye-Catching App Icons and Screenshots
Visual appeal plays a crucial role in attracting users' attention. Design an eye-catching app icon that stands out among competitors. Your app icon should be simple, distinctive, and representative of your brand. Additionally, create high-quality screenshots that showcase the app's key features and user interface. Add text or visual cues to highlight unique selling points and benefits. These visuals should entice users to click and explore your app further.
A/B Testing in App Stores
A/B testing is one of the most important skills ASO professionals must possess to achieve higher conversion rates and app downloads. It is an integral part of app marketing and the best way to continually improve your app store listings based on real-world user behavior.
Gather Positive App Reviews and Ratings
App reviews and ratings provide social proof and influence user decisions. Encourage users to rate and review your app by integrating review prompts within the app. Respond to user feedback promptly and courteously to foster a positive user experience. Additionally, reach out to satisfied users, asking them to share their positive experiences through app store reviews. Higher ratings and positive reviews can boost your app's credibility, increase rankings, and attract new users.
Localize Your App
The global app market is vast and diverse. Consider localizing your app to tap into different markets and reach a wider audience. Translate your app's title, description, and keywords into multiple languages to improve discoverability and engagement. Understand your target markets' cultural nuances and preferences and adapt your app's content accordingly. Localizing your app can lead to increased downloads and user engagement in various regions worldwide.
Wrapping Up
In conclusion, App Store Optimization (ASO) plays a vital role in the success of mobile applications in 2023. With the increasing competition in app stores, implementing effective ASO strategies is crucial for developers and business owners. In today's competitive mobile market, implementing effective ASO strategies is essential to stand out from the crowd and achieve app success.
ASO helps improve visibility, rankings, and click-through rates, ultimately driving more downloads. By following the best practices mentioned above, developers can significantly enhance their app's visibility, attract the target audience, and increase conversions. By incorporating these ASO best practices, app developers can maximize their app's potential and succeed in the highly competitive mobile market of 2023.